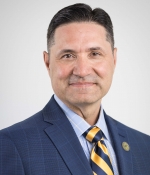 Bio:
Juan Sánchez Muñoz is a professor in the department of sociology. Prior to arriving at UC Merced, Dr. Muñoz was president of the University of Houston- Downtown and before that served at Texas Tech University (TTU) as a vice provost and senior vice president. He has taught courses in classroom management, methods and curriculum development, multicultural education, bilingual education, and critical social theory. His research interests include the learning needs of ethnically and linguistically diverse students in public schools and the general conceptualizations of alternative education for at-risk students.
Dr. Muñoz has served on the Association of Public and Land Grant University's (APLU) Commission on Access, Diversity and Excellence, and currently serves on the board of directors for the Hispanic Association of Colleges and Universities (HACU), Excelencia in Education,  and the American Council on Education (ACE). He is a graduate of the Academy for Innovative Higher Education Leadership offered by Arizona State and Georgetown Universities, ACE's Spectrum Executive Leadership Program, AASCU's Millennium Leadership Initiative, Harvard's Institute for Management and Leadership, the University of California, Berkeley's Executive Leadership Academy, and the University of Texas, Lyndon B. Johnson School of Public Policy, Governor's Executive Development Program.
He is the author of over 96 book chapters, academic articles, encyclopedias entries, conference presentations, and public remarks. In 2010, Dr. Muñoz was among the contributing editors to the seminal compilation, Handbook of Latinos and Education. The Handbook received the American Association of Educational Studies' prestigious Critic's Choice Book Award. His more recent co-edited volumes include, Perspectives in Interdisciplinary and Integrative Studies, which explores disciplinary responses to emerging academic offerings that foster interdisciplinary learning and in 2021, he was again among the contributing editors to the second edition of the Handbook of Latinos and Education.
Dr. Muñoz was an assistant professor at California State University, Fullerton in the Department of Secondary Education and held appointments as professor in the Departments of Curriculum and Instruction at Texas Tech University and in the Department of Urban Schooling at the University of Houston Downtown. He earned a Bachelor of Arts in Psychology from the University of California, Santa Barbara and a Master of Arts degree in Mexican American Studies from California State University, Los Angeles. Dr. Muñoz completed his Doctor of Philosophy at the University of California, Los Angeles, where he studied Curriculum & Instruction in the Division of Urban Schooling.