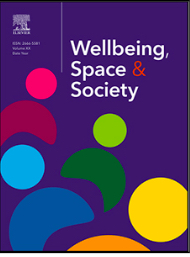 Alejandro Zermeño and Dr. Whitney Pirtle published an article entitled 'It's medicine to me': Examining coping resources and strategies utilized in the sweat lodge ritual experience to improve health of Mexican Americans" in Wellbeing, Space and Society.
The article examines how a sense of connection to Indigeneity and group singing and drumming cultivated within sweat lodge experiences buffer stress and improve the well-being of Mexican Americans. The study draws from 52 in-depth interviews with Indigenous-identifying Mexican American adults, ages 18 to 62, from Los Angeles and the Central Valley of California.
Findings reveal: (1) sweat lodges are sacred spiritual ceremonies that enhance participants' sense of connection to Indigenous identity, ancestry, and culture; (2) this connection serves as a symbolic and active coping strategy vis-à-vis singing and drumming during sweat lodges; (3) singing and drumming helps moderate stressors by stimulating symbolic memory and positive emotions that help regulate negative emotions; and (4) all of this results in perceived improved well-being, though it varies in duration based on the symbolism and emotional energy derived from the ritual experience.
The study demonstrates how Indigeneity is a coping resource and Native singing and drumming are coping strategies that enhance positive emotions during sweat lodge ceremonies, which helps ameliorate stress to improve the overall well-being of Mexican American participants. We conclude by discussing implications for interventions to strengthen positive coping and health in Mexican Indigenous communities.
Congratulations to Alejandro and Dr. Pirtle on their accomplishment!
Please read the entire article here.