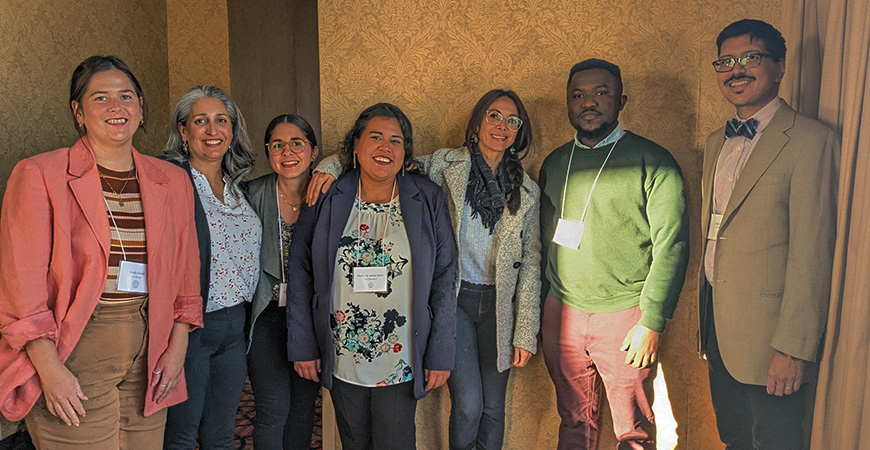 Nearly a dozen UC Merced graduate students and graduate alumni participated in the annual California Sociological Association (CSA) Conference in Sacramento on Nov. 3-4.
The theme of this year's CSA conference centered on "Sociology and Praxis: The Labor and Obligations of Creating a More Just World."
Several current UC Merced graduate students gave presentations, organized panels or acted as discussants. Jay Colond presented his work titled, "Trends in Filipinx-American Education and Attainment as Drivers of Racialization," and Destina Bermejo gave a paper on "The Youth is the Community and the Community is the Youth: Community-Healing with Adult Mentors & Young People in Rural California."
Claudia Johnson Madrigal organized and facilitated a panel on "Family Policing: The Intersection of Child Welfare, Criminal Justice, Gender, Race and Ethnicity." Other current UC Merced graduate students attended, including Emily Ernst, John Adeleke and Luis Rubén González, who was also the recipient of this year's award for exceptional student research — The Elizabeth and Edward Nelson Graduate Student Award.
Recent UC Merced graduate alumni also presented papers, including Amalia Pérez Martín, Yajaira Ceciliano, Verónica Lerma and Maria De Jesus Mora. De Jesus Mora was inaugurated as the president-elect of the CSA, with next year's conference planned at California Polytechnic State University, Pomona.